[ENG]
*** Update ***
InfoGibraltar has contact us to inform the GBC poll data wasn't right as voting intention for Alliance was 56% instead of 53%. They also informed us due to a recent modification, from November the Parlament seat number will increase to 25.

Gibraltar will hold General Election on November, a few weeks after the expected date for UK to leave the EU, and it seems Picardo will continue as PM of this territory.
[ESP]
*** Actualización ***

InfoGibraltar nos ha contactado para puntualizar que el dato de porcentaje de voto para Alliance difundido por GBC era erróneo, situándose en el 56% en lugar del 53%. Además, nos han informado que a partir de noviembre el número de escaños se incrementará hasta los 25 diputados.

Gibraltar celebrará sus elecciones generales en noviembre, semanas después de la fecha estimada para el Brexit, y parece que Picardo continuaría como Primer Ministro de este territorio.
Lastest polls show Together Gibraltar touching 20% of the votes | Los últimos sondeos muestran a 'Together Gibraltar' rozando el 20%
[ENG] This is the lastest known poll for Gibraltar, from GBC, published on January, 2nd.
[ESP] Este es el último sondeo publicado para Gibraltar, de GBP, el pasado 2 de enero.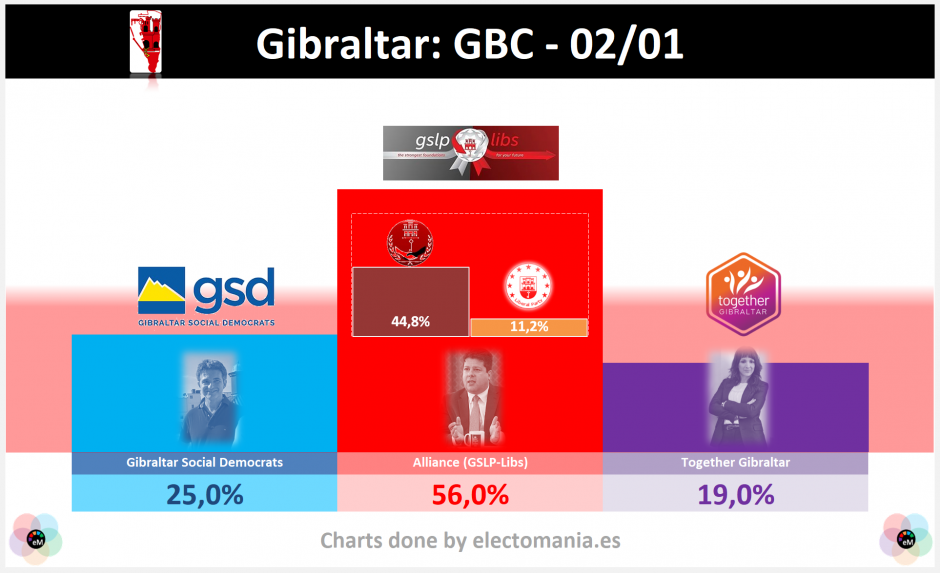 Alliance would keep its majority at the Parliament | 'Alliance' mantendría la absoluta en el Parlamento
[ENG] Our seats estimate from poll data + historical behaviour refers to an scenario where Picardo would not need to achieve an agreement with other parties to continue being the Gibraltar PM, as Alliance would win 14 of the 25 Parliament seats, while Social Democrats would keep 6 of their current seats.

[ESP] Nuestra calculadora de escaños apunta a un escenario donde Picardo no necesitaría alcanzar un acuerdo con otros partidos para continuar siendo el Primer Ministro del peñón, ya que su 'Alliance' ganaría 14 de los 25 escaños de la Cámara llanita, mientras la oposición del GSD conservaría 6 de sus escaños actuales.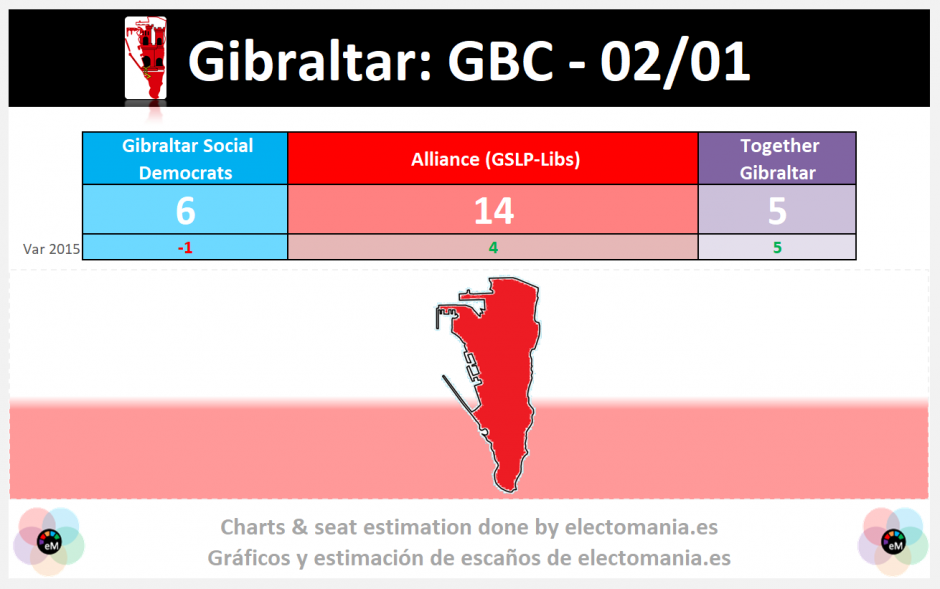 [ENG] electomanía is an independent media outlet from Spain, focus on polls and politics. We follow the polls for Spain and other countries, we create our own charts and estiations from historical data and, for Spain, we also have our own voting intention estimation poll called electoPanel. Our work is possible thanks to the advertising and our individual contibutors via patreon.com/electomania and we don't have any political or media interest behind. We simply love politics.